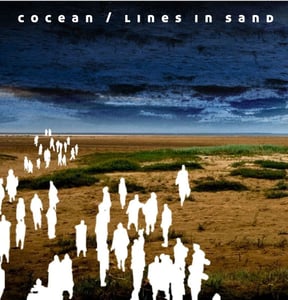 £

2.00
Out now.
Debut release from Lines in Sand 'moving away to start again' appears alongside Seduction Records band Cocean and their song 'Thick as Theives'.
Die Shellsuit Die:
Short but sweet this one - one track from each of the bands, and they're both corkers. Cocean are first with Thick as Thieves, which opens with what sounds a bit like a scratchy record and progresses into an American Football style indie song, finishing with some chunky feedback fed riffing. It all fits together well; there's no sense of disjoint, and closes with a fitting crescendo of guitars and drums.
Lines in Sand are next, and what a pleasant sand their track Moving Away to Start Again is. Reminiscent of such luminaries as Rival Schools, At the Drive-In and Sensefield amongst others it's the kind of powerful, driving indie rock you thought the likes of Coldplay had managed to wipe out with their insipid drivel. If they can keep up this standard they'll definitely be a name to watch out for.
FREE BADGE WITH THIS RELEASE.